MFSI works in collaboration with the Maine Fire Chiefs Association to offer programming and professional development opportunities for chief officers. For more information about the MFCA, please visit their website: mainefirechiefs.com
Maine Fire Chiefs Workshop
The Maine Fire Chiefs Association and MFSI collaborated to create the Maine Fire Chiefs Workshop in 2013. The workshop was developed with a goal to provide current, new and aspiring fire chiefs with an understanding of important considerations for the delivery of fire protection services in their community. The workshop provides information to assist in the management and leadership of a fire department in Maine.
Chief Darrell Fournier (Freeport Fire & Rescue) and Chief William St. Michel (Durham Fire & Rescue) worked in conjunction with the Maine Fire Service Institute to develop this program.
A committee of Maine Fire Chiefs review and update the program regularly to ensure that the material presented remains accurate, current and relevant. Thanks go to Chief Duane Bickford (Fairfield), Chief Roger Hooper (York County), Asst. Chief Timothy Hernandez (Addison), Chief Walter Morris (Jefferson), Chief Michael Robitaille (Yarmouth), Ret. Chief William St. Michel (Durham) and Chief Bernard Williams (Pittsfield) who collaborated and developed the current (2020) version of the MFCA Workshop. The Workshop consists of 8 modules designed to be presented through 16 hours of contact time, typically presented on a weekend. It is possible to select individual or groups of modules to be presented according to your need.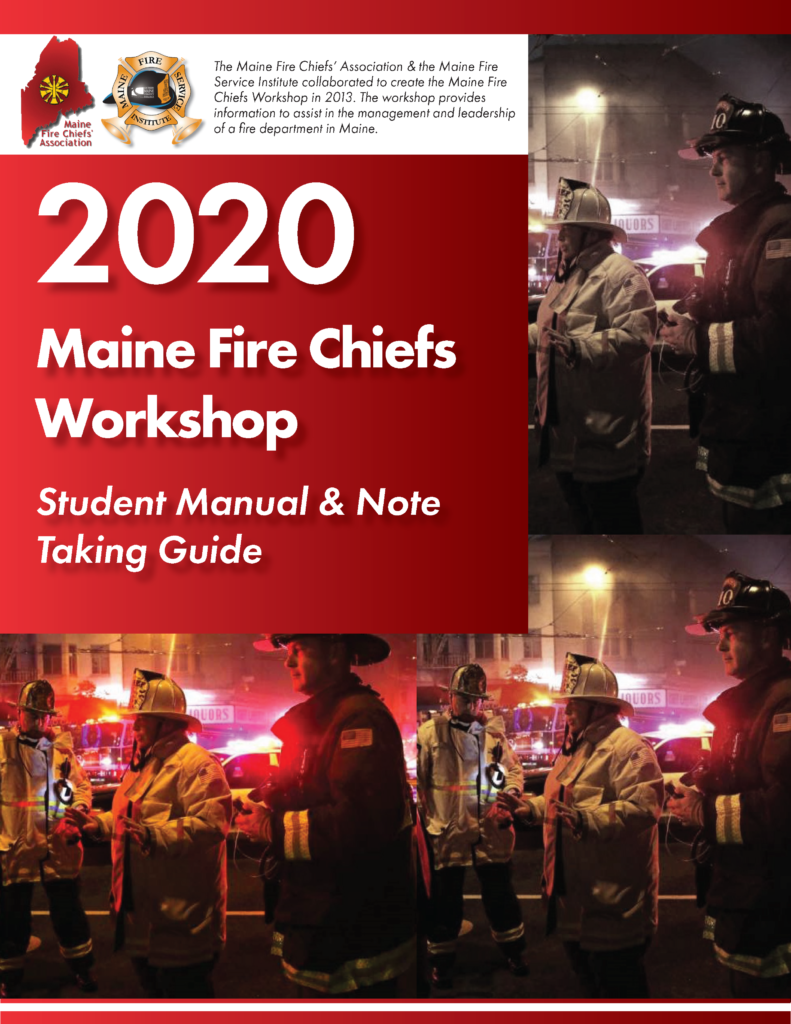 Topics include:
• Legal Aspects of Fire Protection (Module 1)
• Professionalism and Politics (Module 2)
• Fire Chief's Role in Leadership (Module 3)
• Financial Management and Planning (Module 4)
• Fire Chief's Role in Coaching, Counseling and Correcting (Module 5)
• Training, Safety and Risk Management (Module 6)
• Incident Management (Module 7)
• Community and Media Relations (Module 8)
Class size: 12 minimum/24 maximum
Disclaimer to Course Participants: This course was designed as an educational rather than a legal tool for current and aspiring Fire Chiefs. Course participants are strongly encouraged to contact legal counsel for your respective jurisdiction regarding legal matters.
New Executive Chief Officer
The New Executive Chief Officer is a program produced by the National Fire Academy intended to develop managerial, leadership, and administrative skills for first-time executive chief officers (fire chiefs) and others who desire a leadership position within their agency. New Executive Chief Officer is delivered in either a six-day format or the more popular module format consisting of sixteen-hour classes typically offered over three weekends.
Topics discussed include:
Leadership and management
Politics and the role of an executive chief officer
Planning
Liability and risk management
Financial management and capital asset planning
Human resources management
Collaboration, cooperation, and community engagement.
While topics are similar to those discussed in the Fire Chiefs Workshop, the course structure and duration allow for a much deeper dive into each subject, with stress placed on thinking at the executive level. This program is delivered in a Socratic method of instruction utilizing group dialogue, exercises, and instructor-facilitated discussion intended to get the students to explore new perspectives and ideas.
To request a delivery of one of the courses mentioned above, please use our digital Request a Course form. For more information about these offerings, please contact State Fire Instructor Geoffrey Low at glow@smccme.edu or Director Jim Graves at jgraves@smccme.edu for more information.