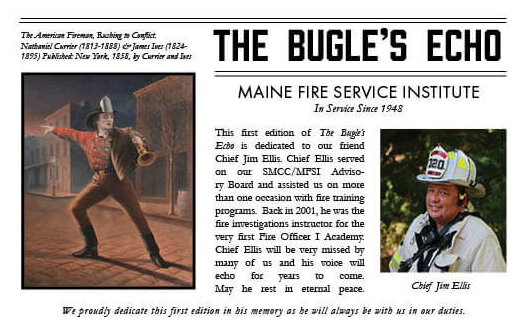 Inside the July October 2023 Issue (pdf)
COURSES & PROGRAMS
STATE HOUSE UPDATES
NFA NEWS
TRAINING PROPS & EQUIPMENT
UPCOMING EVENTS
CERTIFICATION ALERTS
INSTRUCTOR SPOTLIGHT
NEW HIRE
Letter from the Director
Good Day Maine State Fire Professionals:
I hope you all have had a wonderful summer.  It was strange weather-wise, but the good news is we do not need to worry about a drought.  Plenty of water for firefighting in our lakes, ponds and streams.  MFSI has had a very busy summer preparing for the fall training season.  There are many regional programs underway along with two fire instructor programs and a fire officer program planning to start this fall.  With that said, we have seen a large demand for these programs and I feel I need to explain our process.
We plan three to four fire instructors programs per fiscal year, two in the fall and two in the spring depending on instructor availability. Fire Officer I is a bit more of a heavy lift due to the papers and the feedback required for the candidates success. We are planning two to three Fire Officer I programs using a new model on frequency of delivery to meet demand.
There are many, many variables to fire training programs and we will do all we can to make things move smoothly. We will also try to support one or two Live Fire Instructor Programs and our once annually Fire Officer II residential academy. MFSI will continue to collaborate with Texas A&M for Fire Officer III the Fire Department Safety Officers Association for Pro-Board Incident Safety Officer Programs along with our annual National Fire Academy Programs.
We will continue to work hard to get these valuable programs out in the regions so as to grow our fire service through professional qualifications and training opportunities. We understand it can be frustrating at times, but think of us as a fire pump, we can only put out what we are taking in, or we will cavitate.
Jimmy Graves